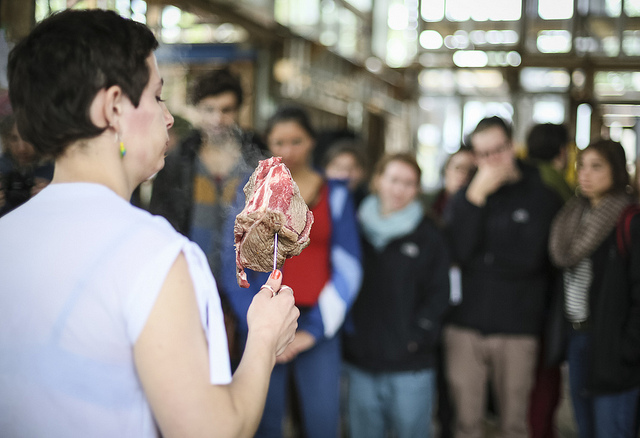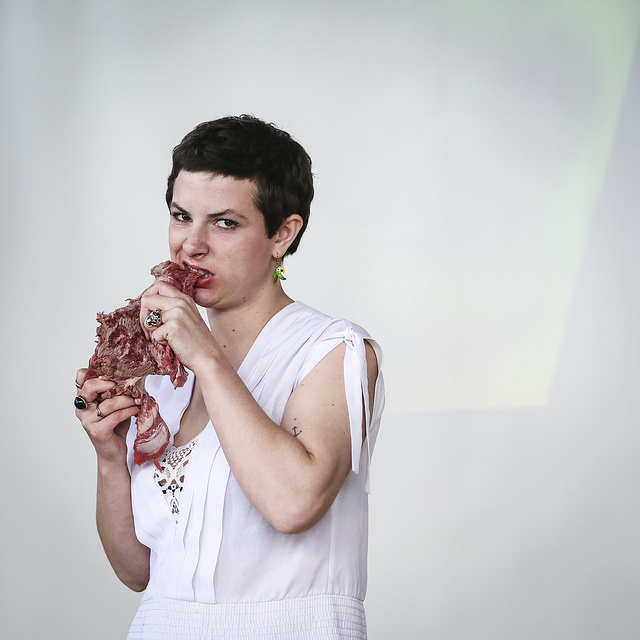 I came upon a documentary called "Did cooking make us human". It is about a scientific theory that says the human species began to evolve when they began eating meat, and then, began cooking.
Among the scientific community, it is accepted that the introduction of meat in our ancestor's diet increased their intelligence and caused their brains to grow.
Indeed, meat has a more concentrated form of energy that allowed our ancestors to spend less time looking for food. This energy was used by their body to evolve by an augmentation of their brain size and therefor, their intelligence.
The performance "For the love of Meat" during For the Love of Food was made to interrogate the viewer about diet habits.
After eating fruits using a stone, I stood up, fetched a steak in the fridge and ate it with my bare hands. As I teared the meat apart with my teeth, masticating, I watched, one after the other, each person in the crowd for a few seconds. Those eye contact were reinforced by the power of the savage act of eating raw meat with my hands. In those eyes, I saw a mixed feeling of fascination, disgust for some and attraction or even erotic tension for others.
The act of eating meat is a reminder of our common ancestors' way of eating: hunters, meat eaters.
However, eating meat felt like doing something extreme, almost subversive.
After it, most people said they were afraid for me, pitied me for inflicting myself such a task and asked if I felt sick.
How did eating meat became a subversive action that make people feel sick and guilty?
In France, where the gastronomy is part of everyday life, eating meat is a celebration. When I was a kid, it was always chicken on wednesdays, fish on fridays, and a roastbeef on sundays. Christmas is a feast for meat and seafood eaters, with oysters, smoked salmon, lobster for starters, foie gras, the utmost sin, followed by a main dish, often goose, wild boar, duck, deer, or other game. Then, the most fantasied cheese platter than make us french so famous.
When you go in restaurant, you choose your meat or fish and then the side dish.
One of my favorite meal is a basic omelet with raped chesse, cream and "lardons", small smoked pork sticks…
Am I a monster to those who pledge their life to veganism? Am I the enemy? Am I to be converted?
There is so many ways to eat, to cook, to live. I am a meat eater. I respect other people's choice, but I don't think I'll ever go vegetarian, let alone vegan. If one day, we cannot buy animal products anymore in markets for ethical, economical or ecological reasons, I'll raise my chickens in my yard and get a cow for milk.
Maybe I'll start a black market, and people will come to my house to buy eggs under the counter. They will have to pay me a lot for the risk I am taking.
In the meantime, I will still get that judging look from my vegetarian friends whenever I go out eating with them and take the meat option.