La Poulette présente: Assiettes.
The Chicks presents: Plates.
Cette performance est ma première réalisée à l'école des Beaux-arts de Rennes, en privé.
Je commence ici ma réflexion sur le défoulement, en jetant contre un mur de bois et de mousse des assiettes jusqu'à la destruction totale. Le mur absorbe les chocs et retransmet l'énergie à travers les traces des impacts. La réflexion sur l'entropie est ici développée: si tout est voué à être détruit, comment considérer une action qui accélère ce processus?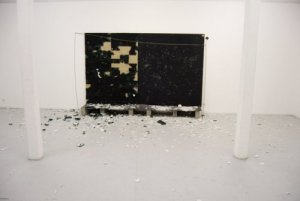 This is the first performance realised at the School of Fine Arts in Rennes, in private.
I start here my reflexion around release, throwing against a wooden and foamed wall plates until total destruction. The wall absorbs shocks and traduces the energy through the traces of impacts. The reflexion on entropy is here questionned: if everything is to be destroyed, how can we consider an action which accelerate this processus?

2008