La Poulette présente: Ampoules.
The Chick presents: Bulbs. 
Cette performance est inspirée du travail de Niki de St Phalle Les Tirs. Voici ce qu'elle déclarait alors: « Il existe dans le cœur humain un désir de tout détruire. Détruire c'est affirmer qu'on existe envers et contre tout. »
Le plaisir intense d'appuyer sur la gachette, d'exploser les ampoules dans la nuit jusqu'à se retrouver dans un noir d'encre. Le son de l'explosion, la fumée qui s'échappe de l'ampoule éclatée donne au geste une atmosphère poétique.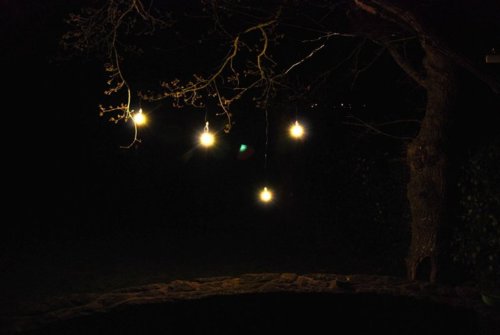 The performance is inspired by the work of Niki de St Phalle The Shootings. Here is was she declared then: "There is in the human heart a desire to destroy everything. Destroying is affirming you exist above everything."
The pleasure of pulling the trigger, burst the bulbs until finding yourself in an ink-black night. The sound of the explosion, the smoke escaping from the exploded bulb gives to the gest a poetic atmosphere.
2009