La Poulette présente De Sang Froid

The Chick presents In Cold Blood
Le frottement des glaçons contre mon corps chauffé par le stress, la pression de la performance.
Un corps accélérateur d'énergie. Un élément qui perturbe un phénomène naturel grâce à une action. Défier l'entropie.
Aussi une manière de condenser cette pression dans un geste mécanique. La peau est rougie par le froid et le corps se réveille de sa torpeur pour être à l'affût.
Une flaque au sol.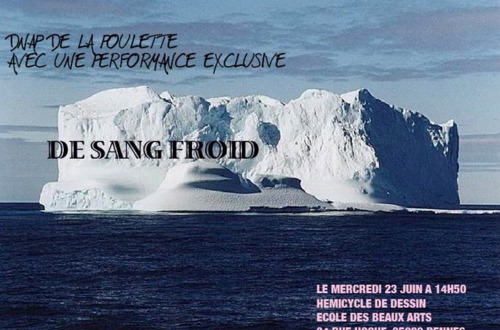 The rubbing of ice cubes against my body, heated by stress and pressure of the performance.
A body accelerator of energy. An element interfering with a natural phenomenon by the way of an action. Challenging entropy.  
Also a way to condense a pressure in a mechanical gesture. The skin is reddened by the cold and the body awakes from his torpor to be on the lookout. 
A puddle on the ground.
http://agora.qc.ca/dossiers/Entropie
http://fr.wikipedia.org/wiki/Entropie
Présentée au DNAP le 23 Juin 2010/ Shown at the DNAP, 23rd June 2010