La Poulette présente / The Chick presents …
LÄNSTIDNINGEN WEBBKAMERA 1970-01-07 15:27:43 / 16:14:49
Ce projet est parti d'un workshop avec les étudiants de l'école d'art d'Östersund, en Suède.
J'ai organisé des petites actions chorégraphiques dans la rue, jouant avec le fait que le journal LT avait une webcamera diffusant sur internet, en direct et 24h/24, les images d'un carrefour de la ville.
L'idée était de créer des petites scènes pour les personnes regardant la vidéo sur le site internet de LT, sans savoir que celles-ci sont fausses, comme par exemple un faux vol de sac à main, une baston de gang ou des chutes sur la neige. Cela a aussi permis d'introduire de l'absurde dans les vidéos, par exemple lorsque les acteurs s'arrête au milieu de la rue, courrent après un bus, font de la corrida avec les voitures ou s'arrêtent pour regarder la caméra…
J'ai enregistré les images du direct sur internet pour créer une vidéo où l'on peut observer le quotidien d'un carrefour d'une petite ville suédoise, tout en essayant comme dans Où est Charlie?, de repérer les anomalies.
Ce projet souligne le fait que sans le savoir, les gens passant par ce carrefour, tout comme beaucoup d'autres dans le monde, sont filmés dans leur vie sans le savoir.
Cela soulève un questionnement par rapport aux droits d'image et la manipulations de celles-ci.
2011
Vidéo de performance, neuf parties, 11' 32"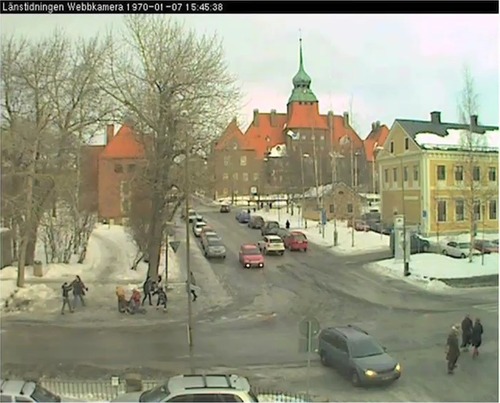 Image de la vidéo: Bataille des gangs –  Image from the video: Gang fight action
This project is part of a workshop with the students of Östersund Art School in Sweden.
I was choreographing some little actions in the street, playing with the fact that the LT Newspaper had a webcamera broadcasting 24/24h directly on the internet images from a crossroad in town.
The idea was to create little scenes for the people watching the LT website without them knowing it was false, as for the robbing, the fight or the fall. It could also introduce absurd in the videos like people doing stop motion, the impossible race behind a bus, two people doing corrida with cars, some stopping to look at the camera…
I had the images recorded online and created a little movie where you can observe the everyday scene of a little swedish town, and try to find, as in Where is Charlie?, the unusualness or crazyness.
This project underlines the fact that without knowing, a lot of people going through this crossroad, such as many others in the world, are recorded in their lives without knowing it. It raises questions about image property and images manipulations.
2011
Video from a performance in nine parts, 11' 32"